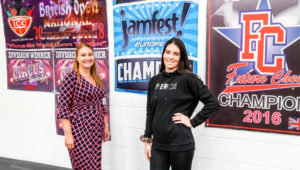 Did you know, E-Factor's Enterprise Village is home to a championship winning sports club? Fierce Elite Cheer, the only dedicated competitive and recreational cheerleading club in North East Lincolnshire, relocated to the Grimsby commercial community site in September 2018, tailoring the space to suit their athletic requirements.
What Fierce Elite Cheerleading needed
Fierce Elite Cheer started in July 2004 with just four athletes, practising at a local school. As the club grew, the teams used the facilities of Grimsby Gymnastics Club, where the increasing number of cheerleaders were able to develop their technique and begin competing. Erin Douglas, owner of Fierce Elite Cheer, always had a vision for her own dedicated large, open practice space with high ceilings, that required very little work before moving in so the team could concentrate on training and growing.
 How E-Factor helped
Natalie Cresswell, Property & Operations Manager for E-Factor, met with Erin to show an available unit on the Enterprise Village – the largest on the site. All of the industrial properties are modern and spacious with excellent office, kitchen, and bathroom facilities, meaning the Fierce team could move into the unit quickly without making any renovations. This would save time and money, allowing the team to invest in their own top-quality equipment.
The Result
Fierce Elite Cheer agreed to let the unit and moved into the Enterprise Village in September 2018. Erin, with permission and support from the E-Factor Property team, was able to remove a surplus office, giving the team even more space for practice. Because of this minimal modification, Erin was able to invest her time and money in sourcing all new equipment for the Fierce team, including a specialist spring floor. Today, Fierce Elite Cheer boasts almost 300 athletes, 24 members of staff, and several national and international championship titles including Jamfest! Cheer and Dance European Champions.
Erin said: "Cheerleading is all about building up resilience in the girls and boys. It's a challenging sport so having the right space for training is important. We wanted somewhere where the team could continue to grow and compete at higher levels. The support we've received has been great. They [E-Factor] are very professional and are always willing to help."
Natalie added: "We are always keen to provide the right accommodation for our clients' business requirements, and it is really great to see the transformation from an industrial space to this fabulous vibrant studio. We are proud to support Erin in her vision but to provide the required space for all the athletes who are using the club."
Are you looking for a new home for your business?
Contact our friendly team today, we are happy to help.