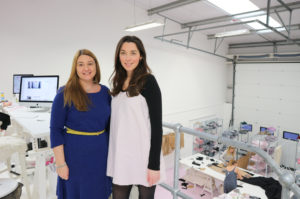 Stalf (formerly Stella & Alf), was established by Owner and Designer Paris Hodson in 2012. From their Studio in E-Factor's Enterprise Village, Paris and her team handmake easywear garments to order; small batches of clothing that are designed, hand-cut and made from scratch in-house.
What Stalf needed
Stalf believe in slow, organic growth and after six years of steady and sustainable development, the time had come to find a new studio. Paris and her team needed a location that provided more space for each of the brand's processes: research, design, cutting, sewing, packaging, and marketing.
It was incredibly important to the brand to find the right property. Something airy and bright with space that allowed for clear distinctions between the different areas of the process. With many of Stalf's core customers based between Caistor and Cleethorpes, Grimsby seemed like a natural location. Ideally, the studio would be close to the A180, allowing easy access for deliveries and for Paris' meetings around the country.
E-Factor's Enterprise Village was recommended to Paris by the team at Daniella Draper Ltd, who also
have a workshop on site and suggested Paris contact E-Factor Property to enquire about upcoming properties to let.
How E-Factor helped
Natalie Cresswell, E-Factor's Property & Operations Manager, liaised with Paris about what exactly Stalf would need from a studio. As soon as a suitable property became available, Natalie got in touch with Paris and invited her to take a look at the space. Together, they discussed Paris' vision for the studio, how it would look and feel, and how to best utilise the space. Stalf are now based in one of the largest units on the Enterprise Village.
The Result
In July 2017, Stalf relocated to their studio in E-Factor's Enterprise Village and began transforming the space to suit the brand's signature style. The floors and doors were painted pastel pink, with office space on the mezzanine floor taken down to make the studio an open, light space.
Paris said: "E-Factor has been a great asset. They have allowed us to work with what we have here and stay true to the style of the Stalf brand. Natalie has made a big impact. She is very accommodating and always open to ideas, she's happy to be an ear to listen and also very pro-active. If we need something, we can go to her and it's done."
Natalie said: "We pride ourselves in being more than just a landlord and want to ensure that any tenant that takes any of our properties gets the space that is exactly right for them. From the first meeting with Paris, it was important to me to ensure that the space fitted her brief. It has been an absolute privilege to be able to help Paris and her team realise their vision and deliver the creative environment that they required. The transformation from industrial unit to the amazing studio is fantastic, we are so glad to have STALF as part of the Enterprise Village Community. I look forward to continuing to support them on their very exciting journey in the future."
Are you looking for a new home for your business?
Contact the E-Factor Property team today!