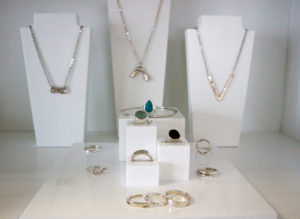 Tracey Walsh is a jewellery designer, crafting silver pieces with her very own brand SilverBoo Handmade Jewellery. Recently, Tracey opened SilverBoo Studio on Grimsby's popular Enterprise Village with a vision to pass on her enjoyment of creating precious jewellery.
What SilverBoo Handmade Jewellery needed
SilverBoo began as a hobby when Tracey took part in a silversmithing course. She created bespoke pieces of jewellery and found that people were quick to place orders and recommend her to friends. Tracey's client base grew and so, in early 2014, she established her very own brand and launched her first collection alongside her personalised jewellery design service. As a start-up venture, Tracey contacted E-Factor's business support team for advice.
 How E-Factor helped
Julie Sweeney, E-Factor Business Advisor, met with Tracey to discuss the ins-and-outs of starting a business and working from home. The first step was to become registered and to set the framework for business and marketing plans going forward.
SilverBoo continued to develop organically and sustainably with Tracey establishing a loyal client base, increasing her online presence, and making connections as a member of the Business Hive, E-Factor's enterprise support club. Throughout her journey, Tracey has been able to contact the Business Support team with any questions she may have.
The next step for SilverBoo was to open a studio, a place where customers could meet Tracey to discuss bespoke designs, to shop the latest collections, and to take part in jewellery-making workshops.
Tracey began to look for suitable spaces in the Grimsby area and was already familiar with E-Factor's Enterprise Village. Natalie Cresswell, Property & Operations Manager, invited Tracey to view a property that had just become available on the site. They discussed the improvements that needed to be made and in early August 2019, Tracey received her keys and began her renovation.
The Result
SilverBoo Studio opened in September 2019, boasting a light, homely space with a front of house shop, work area where Tracey can make jewellery and host workshops, and an open space on the mezzanine floor where Tracey can meet clients to discuss bespoke creations and design her pieces. Already, she has established her brand on Google My Business, making it easier for customers to find the Studio's location, and is relaunching her website at silverboojewellery.co.uk.
"Making jewellery is something I really enjoy, and I want to pass on that enjoyment of making something so personal and lovely so people can take home something that they're really proud of.
"It was always in my plan to have my own studio and workshop, and I'd been looking at different areas when Natalie asked me to take a look at the unit. It's all been brilliantly organised and handled so smoothly, and I've received loads of support. E-Factor is a great starting point for businesses."
Natalie added: "When Tracey approached us, we discussed what she wanted from the space along with how she needed it to work. She had a very clear vision of what she wanted her Studio to look and feel like, so it was really important to me that we got it just right. It has been great to see the transformation from what was a light industrial unit to this fabulous, welcoming studio, which really captures the essence of the SilverBoo brand."