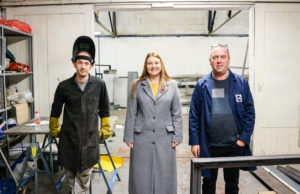 Since 2015, PGR Engineering has been manufacturing specialist steel products to various industries, including the food sector, from its base in Grimsby. After successfully developing the business at E-Factor's Enterprise Village for three years, Owner and Managing Director Paul Roberts was ready to relocate to his own property.
What PGR Engineering needed
Location would be key to PGR Engineering's success. When looking for premises, Paul needed a space that was large enough to accommodate his team of two employees and their engineering operations whilst being close to clients, many based on Grimsby Docks. As a new company, the property needed to be low maintenance so that Paul could focus on growing the business.
How E-Factor helped
Paul met with Natalie Cresswell, E-Factor's Property & Operations Manager, to view an available unit on The Enterprise Village. The site is just a few minutes away from the Port of Grimsby and the A180, allowing for easy access to clients on the outskirts of Grimsby and beyond.
E-Factor provides a comprehensive wrap-around support service to all of its tenants and wanted to make PGR Engineering's move into the premises as smooth as possible by offering easy-in-easy-out lease terms. This was essential for Paul who knew that if things didn't work out for whatever reason, he wouldn't be tied in to a long lease.
The Result
PGR Engineering operated from their Enterprise Village unit for more than three years, and in 2019 decided to relocate to larger premises to accommodate the growing business. Paul had expanded the team from two employees to three, with plans to hire an apprentice in the near future.
Paul said: "E-Factor have always been very helpful, and Natalie is a pleasure to work with. The easy-in-easy-out terms were a big part for me, because as a new business you don't know what to expect, so it was useful to know I wouldn't be tied in to a lease for a long time. When we were ready to leave, Natalie told me exactly what I needed to do, so it's been ideal."
Natalie added: "Whilst we are sorry to see PRG Engineering leave The Enterprise Village, we are delighted that the reason he is leaving is because his business has grown and developed to achieve this, and it is brilliant that he is able to offer employment opportunities to local people. The new premises really do give Paul and his team the opportunity to continue to develop further to meet their clients' needs. We wish them every success and will always be at the end of the telephone if he requires any business support in the future."
Are you looking for a new home for your business?
Contact the team and we will be happy to have a chat.