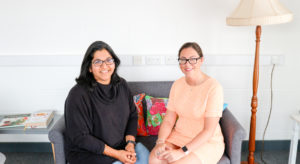 Since 2016, Ruchita Green has been the chef behind Masala Masters, curating authentic Indian dining experiences for people to enjoy in their own homes and at events. The business is going through an exciting period of growth with the support of E-Factor's specialist small business advice services.
What Masala Masters needed:
Ruchita already had experience with E-Factor's Business Advice team and knew she wanted to work with them as she established Masala Masters. As a new business, Ruchita needed support and answers to any questions she may have, whether about networking connections or developing new services.
After three years in business, Masala Masters had outgrown Ruchita's home kitchen, and so the search for suitable premises began. A small industrial unit became available to lease on E-Factor's Enterprise Village, which has plenty of space to use as a kitchen and office.
 How E-Factor helped:
Natalie Cresswell, E-Factor's Property & Operations Manager, worked quickly to arrange for a change of use on the unit, which enabled Ruchita to handle food on the premises. In April 2019, Masala Masters officially moved into the Enterprise Village, styling her industrial unit with furniture that suits her business' time-honoured, homecooked values.
In recent months, Ruchita has been working closely with E-Factor Food Sector Business Advisor, Rachel Appleton, to create a business plan and develop growth opportunities. Rachel has assisted with forecasting and analysing costings, site visits for events and pop-up restaurants, as well as organising a series of workshops, introducing the right contacts to ensure she received the support she needs.
The Result
The move to the Enterprise Village unit has given Ruchita the space she needs to diversify her services. In the Summer, Ruchita not only hosted a series of workshops to offer practical tips and authentic recipes that can be recreated at home, but also announced a short-term residency at a popular village pub. In the near future, she will be looking into recruiting her first Apprentice.
Ruchita says: "I wanted a space that I could use as a professional kitchen and for workshops, which was the main thing I wanted to introduce to the business. It works really well here as the kitchen is separate from the office space, and there is plenty of room for a group to work comfortably.
"E-Factor has been fantastic, I can't thank them enough. My experience with E-Factor goes way back so for me, when I wanted to start Masala Masters, they were my first port of call. In the near future, I will be thinking about hiring an Apprentice and I'll need guidance, so E-Factor will be my first step. If I need business advice, I wouldn't go anywhere else."
Are you looking for a new home for your business?
See our available properties on site or call the team who will happily assist