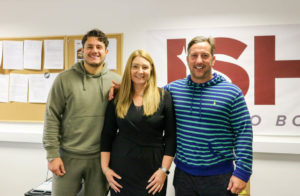 In early 2018, Garry Bainbridge and Joel Creasey, two friends and business men with long-standing ties to Grimsby's fishing industry, began their venture Ish Fish – a way for people across the UK to order fresh Grimsby fish online, to be delivered straight to their doors.
What Ish Fish needed:
Ish Fish is an online brand, so a functional, stylish, and secure e-commerce website was imperative.
The team also required office space where they could plan and prepare for the launch of their website, hold meetings with potential suppliers, and manage the sales and administrative side of the business.  The office needed to be in a location that is close to Grimsby Docks, where Ish Fish's trusted merchants are based, with excellent broadband provisions so that they can efficiently manage online orders and customer enquiries.
How E-Factor helped
Natalie Cresswell, Operations Manager at E-Factor, was able to offer Joel and Garry an office in E-Factor's Enterprise Village, complete with managed reception facilities, easy-in-easy-out lease terms, and an on-site café for meetings. The Village is located just a few minutes away from the Port of Grimsby, so the team can easily go between their office and their suppliers. With E-Factor as landlords, Ish Fish also receive continuing business support.
Steve Parker, E-Factor Business Advisor, was able to advise Joel and Garry on an available grant to go towards the development of their online shop. Once Ish Fish had sourced quotes from their prospective web developers, Steve supported the business through the application process by ensuring that all paperwork was correct, and any supporting evidence was submitted.
The Result
Joel and Garry received a grant of £1,600 from Greater Lincolnshire LEP, and in June 2018 ishfish.uk was launched. Throughout the whole process, from initial announcements to the unveiling of the website, Ish Fish secured a lot of interest and sales are increasing month-by-month. They now work with a small team of creatives from their Enterprise Village office, always planning for the growth of the brand.
Garry said: "We knew the Enterprise Village would be a great location for our office, mainly because it's so close to the dock, and the motorway, and it has all the facilities we need. The support with grants and funding is a bonus too, we just wouldn't have known about them if it wasn't for the E-Factor team."