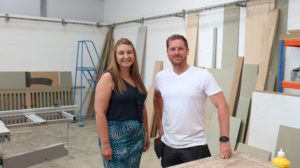 From an industrial unit on E-Factor's Enterprise Village in Grimsby, Andrew Sims designs and manufactures luxury, handmade shaker style kitchens and wardrobes. He started his own venture in 2016 following a successful career in joinery and knew exactly where he wanted his business to be located.
What Andrew Sims needed:
To craft large-scale, completely bespoke kitchens and storage furniture, Andrew needed space for equipment, workstations, and storage, so it was imperative that the property was spacious. It needed to have a loading bay ready to load vans for delivery, as well as quick, easy access to main roads and motorways for deliveries. He wanted to be located on The Enterprise Village having seen and experienced the site's modern, connected facilities, and so contacted the E-Factor Property team to enquire.
How E-Factor helped
Although an industrial unit wasn't available at the time, Natalie Cresswell, E-Factor Property & Operations Manager, kept in touch with Andrew and reached out to him as soon as a suitable space became available, and he quickly moved the business into the property.
In October 2018, Andrew Sims Bespoke Kitchen & Wardrobes was growing significantly and taking on larger, more complex jobs, and therefore needed additional manufacturing space.
The Result
Because of the Enterprise Village's easy-in-easy-out renting terms, Natalie was able to help Andrew move into a larger unit on the E-Factor Enterprise Village site, assisting with the transition to make the move as simple as possible. Now, Andrew Sims Bespoke Kitchens & Wardrobes is located in a modern, 1130 sq ft industrial unit with office space and a small kitchen, where he works alongside his small team. His creations are delivered to clients locally and beyond.
Andrew said: "I always wanted to be based here, I think the facilities are fantastic. It's secure, there are some brilliant businesses on the site, and the café is great too. And we get a lot of support here, there are always business advisors to speak to who give us useful advice."
Are you looking for a new home for your business?
Contact our friendly team today, we are happy to help.