LEADING BUSINESS PREMISES
The ideal place to grow your business
Here at E-Factor, we are dedicated to being the Commercial Landlord of choice. With that in mind, we not only provide first class accommodation we also have a dedicated team including qualified business advisors who will work with you as and when you need them to ensure that your business continues to thrive.
So, whether you are looking to take the first tentative steps into a commercial property or are ready to move into larger premises we will work with you to meet your accommodation needs.
Our Business Centres
Enterprise Village
The E-Factor Enterprise Village provides modern, professional office and industrial unit accommodation in a location that is both close to the town centre. This newly built, purpose designed property offers a managed reception, access to meeting rooms, ample parking and on site business support.
The Business Hive
Create a buzz with Grimsby's stylish, professional and state of the art business premises. There are a limited number of offices to rent from £55 per week, hot desk facilities are also available and meeting rooms to hire. The Business Hive is also home to the Business Hive Club with a business community of over 300 members.
Find out more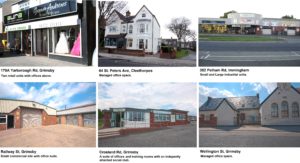 Every facility your business will need
For most businesses there are times when the in-house facilities just aren't suitable for that important meeting or event. Maybe you need more space, somewhere to impress clients or prospects, a place where you can get your team off-site or facilities large enough to hold an event. Having the right environment can make a real difference.
Conference Facilities
Showcase your business in the most professional way.
Meeting Room
Leave a lasting impression and secure business in your own private meeting space.
Hot Desks
Ideal for people who need occasional office facilities or a workspace off-site.
Virtual Office
Having a commercial address is often more appropriate for projecting a professional image.